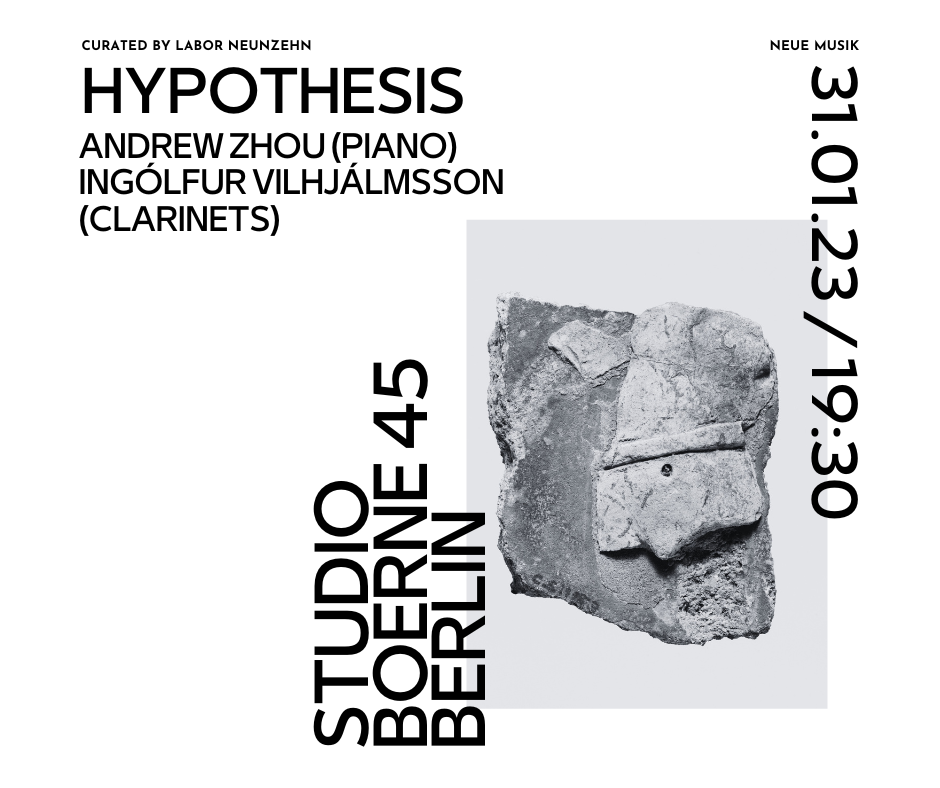 A new music double bill by Labor Neunzehn with the canadian pianist Andrew Zhou and the berlin based clarinettist Ingólfur Vilhjálmsson the concert showcases a shortlist of exploratory works alongside classics of new music solos for clarinet and piano. The two instruments come finally together at the centre of the programme in "Ipotesi," a piece by a lesser-known Ennio Morricone composed outside Hollywood's imaginery, but not without sensing vision and movement.
Hypothesis is a side event looking at the upcoming Cluster Series 2023 and a curatorial cooperation between Labor Neunzehn and the composer Peter Fahey.
The concert is realized with the kind support of the "Senatsverwaltung für Kultur und Europa" Berlin and "Perspektive Kultur".
Place and time
Studio Boerne 45,
Börnestraße 43, 13086 Berlin
Doors: 19:00
Concert starts: 19:30
Concert Programme
* Franco Donatoni – "Soft I,II" for bass clarinet solo (1986)
* Alessandro Massobrio – "debole forza" for piano and e-bows (2010, rev. 2022, for Andrew Zhou)
* Jessie Marino – "Muscular Sunrise" for clarinet, percussion and objects (2019)
* Ennio Morricone – "Ipotesi" for clarinet and piano (1996)
* Peter Fahey – "Sul Tasto" for piano (2022, for Andrew Zhou) WP
* Alistair Zaldua – "Something Is Other Than It Is" for bass clarinet (2014)
* Claude Vivier – "Shiraz" for piano (1977)
Andrew Zhou: piano
Ingólfur Vilhjálmsson: clarinets
Alessandro Massobrio: electronics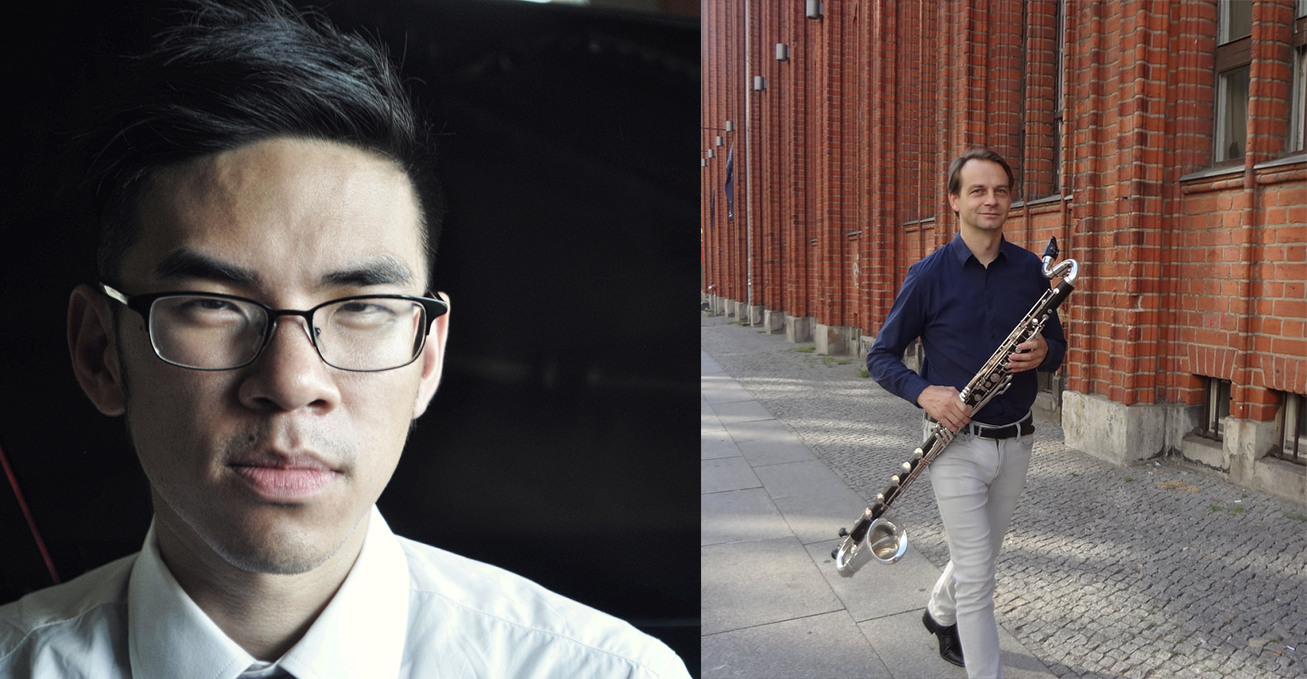 Photo © María Helga Guðmundsdóttir
Andrew Zhou has been noted for his "great sensitivity" and "luminous technique" (Anaclase), as well as performances of "extraordinary energy" whose "sonic range and expressive power stun under his steely fingers" (ResMusica). Second-prize laureate at the Concours International de Piano d'Orléans, where he garnered four special awards, Mr. Zhou has been heard on WQXR, SWR, and France Musique, and has worked closely with leading composers of our time, including Unsuk Chin, Tristan Murail, and Walter Zimmermann as well with numerous conductors including Matthias Pintscher, Jean-Philippe Wurtz, and Julien Leroy.
Polymathic in temperament, he composes and writes on sundry topics intersecting the musical, social, and literary. He is a fierce proponent of recovering and performing historically erased works, while his performances make the most complex contemporary scores accessible to audiences. Mr. Zhou has toured throughout France and has appeared in major venues such as the KKL (Lucerne Festival), Tongyeong Concert Hall, and the Théâtre des Bouffes du Nord (Paris). He has been the recipient of commissioning grants from the Arts Council of Ireland, the Galaxie-y Funds, and the Fromm Foundation. His piano duo HereNowHear, which focuses on commissioning boundary-breaking repertoire centered on performances of Stockhausen's Mantra, has been the dedicatee of numerous new works. He has been a member of the Aspen Contemporary Ensemble and Ensemble Ulysses, and currently serves on the curatorial team and coaching faculty as Contemporary Leader and Diversity Steering Committee member for the Lucerne Festival Academy.
Primary teachers include Xak Bjerken, Bruce Brubaker, and Thomas Schultz, alongside influential work with Stephen Drury, Teresa Dybvig, Pierre-Laurent Aimard, and Tamara Stefanovich. Currently, he teaches piano and chamber music at Cornell University. His recordings include "Vienne et après" (Tessitures) "In Memoriam Paul Zukofsky" (the final disc on the historic CP2 label), as well as contributions to recordings on the Open Space and Outhere labels. His recent album "Présences Lointaines" (Solstice) features rarely heard works from a three-hundred-year tradition of virtuosic French music. He is currently working on a biography of Paul Zukofsky.
Ingólfur Vilhjálmsson studied clarinet in Amsterdam with Herman Braune and Harmen de Boer as well as bass clarinet with Harry Sparnaay and Eric van Deuren. He plays all the clarinets and has a great preference for the bass clarinet which he performs regularly, also as a solo instrument. He received a scholarship as a member of the Ensemble Modern Academy in 2006-2007.
He is a member of Ensemble Adapter in Berlin. Ingólfur has worked with many composers of his generation and given concerts in Germany, The Netherlands, Finland and Iceland, including festivals like MärzMusik (Berlin), Ultraschall (Berlin), Dark Music Days (Reykjavik), Frum- (Reykjavík) and Darmstädter Ferienkurse für Neue Musik (Germany). Ingólfur has worked with known composers such as Hosokawa and with Lachenmann on his avant garde landmark piece Dal niente. His playing has been recorded by the WDR, The Icelandic Radio, SWR and the Hessische Rundfunk.
Ingólfur recorded the CD "Dualism" with percussionist Tobias Guttmann on the ITM label in 2008.
As a soloist Ingólfur toured the UK in 2015 and recorded his second CD in 2017 with solo bass clarinet and contrabass clarinet music. The CD includes music by Franco Donatoni, Alistair Zaldua, Jesper Pedersen, Jakob Diehl and Thrainn Hjalmarsson. Vilhjálmsson's repertoire spans from the classics of the modern repertoire like Dialogue de l'ombre double by Boulez, Clair by Donatoni to the new solo works he regularly commissions and performs. Ingólfur has recorded all the solo clarinet works of Franco Donatoni.
In the classical field Ingólfur works with renowned violinist Judith Ingolfsson and pianist Vladimir Stoupel and performes often with them in Germany and France.