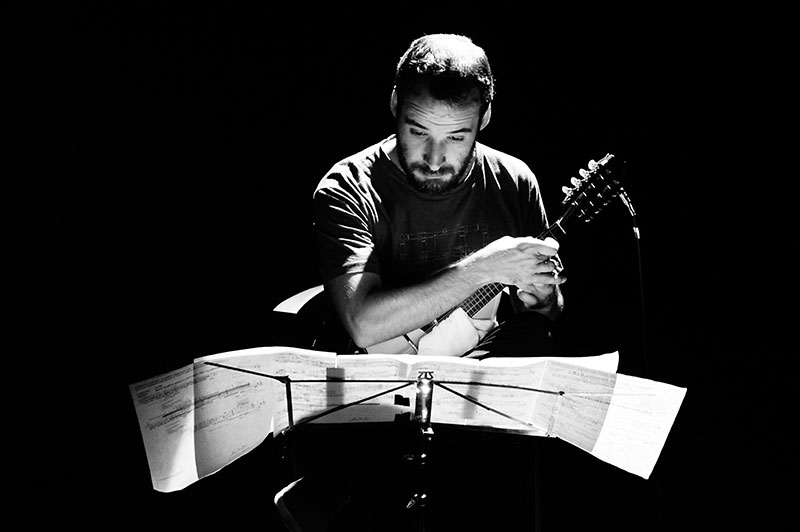 As a part of Matthias Koole's Weltoffenes Berlin Scholarship Programme at Labor Neunzehn, the guitarist presents, in collaboration with us and KM28, his second concert programme.
You are all warmly invited
Thursday December 09 ICNISP (Matthias Koole & Marina Cyrino) concert
The programme features premieres by composers/performers:
Liz Allbee: One Dream Keeps Rising Up Rising (2021)
Ute Wassermann: Go Between #2, for flute, guitar and field recordings. (2020)
Raed Yassin: Four Quarters For Guitar Quartet (2021)
Magda Mayas: Interstice (2021), For amplified flute and guitar
ICNISP: 3 Calistenic Exercises (2021)
WHERE:
KM28
Karl-Marx-Str. 28,
12043 Berlin
December 9, 2021
Doors 19:30, Concert 20:30
https://www.km28.de
2G+ rules apply from Nov 27, 2021, which means you need a vaccine or recovery certificate + a mask.
This concert is supported by Berliner Senatsverwaltung für Kultur und Europa

We look forward to celebrating together and saying goodbye before the Christmas break.
/////
ABOUT MATTHIAS KOOLE
Matthias' practice as a guitarist navigates between improvisation and several forms of collaboration in written music and multidisciplinary projects.Groups include ICNISP – Institute for Certified Nomadic Illicit Sonic Practices with Marina Cyrino, the guitar duo Oh Mensch with Kobe Van Cauwenberghe, the experimental music trio Infinito Menos with Henrique Iwao and Mário Del Nunzio.
Matthias is a member of the Brazilian experimental music label/production house Seminal Records, through which he organizes, in Belo Horizonte, with Henrique Iwao, the improvisation series QI – Quartas de Improviso.
In the past, he was a founding member of the guitar quartet ZWERM. He played or plays, as a freelance musician, in ensembles such as Ictus, Champ d'Action, United Instruments of Lucilin, Brussels Philharmonic, BIT20 Ensemble, Opera Lab Berlin…
Recent recordings include a solo improvisation cd 34:46 released by Seminal Records and Disputa e Guerra no Terreiro de Roça de Casa de Avó with Marco Scarassatti, Henrique Iwao and Marina Cyrino released by OEM Records.
Matthias was awarded a Stipendienpreis at the Internationale Ferienkurse für Neue Musik in Darmstadt (2010) and was resident at Akademie Schloss Solitude, Stuttgart (2013-2015). He studied guitar in Ghent, Belgium, with Tom Pauwels and recently obtained his PhD at Universidade Federal de Minas Gerais (UFMG) in Belo Horizonte, Brazil with percussionist Fernando Rocha and anthropologist Lúcia Campos as advisors.
matthiaskoole.seminalrecords.org
https://seminalrecords.bandcamp.com/
pic © Alessandra Fiorini