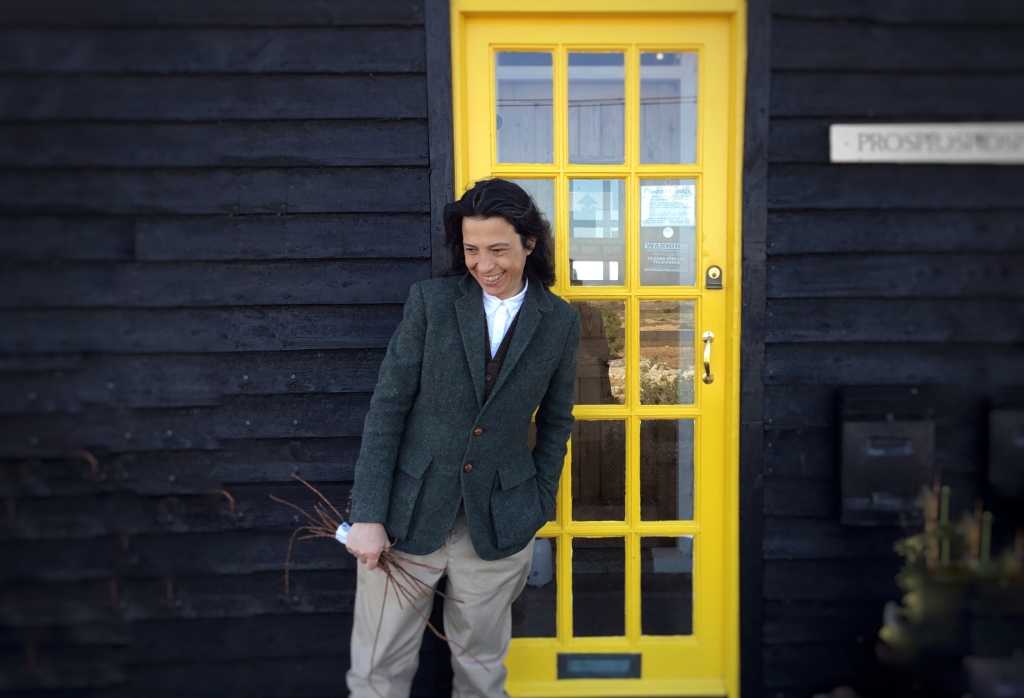 DATE: 28 November 2021 // DOORS: 17:30 // CONCERT: 18:00
CLUSTER #18
"I Should Have Been a Gardener" is a work inspired by Derek Jarman, his diaries, his garden, his life and the great influence he had on the culture of the 80s and 90s. It is a portrait of the man inspired by life, death, political commitment and the garden, a fresco composed of the music Jarman loved and listened to, such as The Wound Dresser by John Adams, the music he worked on, such as It's a Sin by the Pet Shop Boys, and the music the musician composed after a long inner journey into the world of the English director.
Sound and silence work together, the music seeks redemption and purification in an atmosphere that is alive and sick at the same time, like Jarman's garden at Prospect Cottage, a magical place where colourful flowers bloom among the pebbles and crosses made of rusty iron left by the sea on the beach, coexisting between the sea and a nuclear power plant on the horizon.
"I Should Have Been a Gardener" was published in July 2020 by Die Schachtel.
WHERE:
LABOR NEUNZEHN
Kiefholzstr. 19/20
12435 Berlin
2nd backyard | 4th floor | room 11/12
2G+ COVID-19 protective measures apply
FREE ENTRY / PLACES ARE LIMITED AND REGISTRATION IS MANDATORY
https://www.eventbrite.de/e/cluster-
The project CLUSTER is generously supported by Initiative Neue Musik Berlin / field notes and Dezentrale Kulturarbeit Berlin-Treptow.

"Cluster" is a music series devoted to sound investigation with a particular focus on contemporary languages, new music and extended techniques. "Cluster" supports the collaborative work and aims to offer an exchange platform for musicians, composers and electronic music performers in Berlin-Treptow.
////////////////////////////////////////////////////
MORE INFO:
www.laborneunzehn.org
https://vimeo.com/clusterseries
FB EVENT: https://www.facebook.com/events/376662404253254
////////////////////////////////////////////////////
ABOUT THE ARTISTS
Alessandra Novaga
Alessandra Novaga is a Milan based guitarist with a solid classical training completed at the Musikhochschule in Basel. After many years spent exclusively in the classical field, her artistic course made a turning point that led her to explore and attend only the territories of experimentation, composition and improvisation, thus redesigning her relationship with sound and performance. She started to work with an array of composers and artists such Paula Matthusen, Francesco Gagliardi, Sandro Mussida, and Travis Just, among the others, who wrote the scores for her first solo electric guitar album La Chambre Des Jeux Sonores, released in 2014 on the Italian avant-garde record label Setola di Maiale. Alongside her solo works, she performed with musicians Stefano Pilia, Elliott Sharp, Andrea Centazzo, Massimo Falascone, Gianni Mimmo, and Patrizia Oliva, among others. In 2016, Alessandra released her second solo album, Movimenti Lunari published by Blume, as an investigation of her resonantly spacious guitar playing approach, aiming at deconstructing the instrument's unique properties. The record is a meditation on the relentlessness of the natural forces, memory, technology, movement and stillness. Novaga's third solo album Fassbinder Wunderkammer was released in 2017 as tribute to R.W. Fassbinder and his cinema. The record includes arrangements and themes written by Peer Raben, and sets a sonic journey through the many identities Fassbinder was able to embody with his unique voice. Her recent solo album, I Should Have Been a Gardener, was released this year on the Italian sound-art/avant-garde label Die Schachtel, as an expansive meditation on the English filmmaker Derek Jarman's life and works. As a composer for theatre shows, Alessandra scored and played on stage for the actress Elena Russo Arman, Teatro dell'Elfo, for the Milan based group Phoebe Zeitgeist and for Elio De Capitani at Spoleto's Festival Dei Due Mondi. Alessandra performed in Europe and in the United States at festivals such as Donaueschinger Musiktage(DE), Himera Festivaali (FN), Angelica (Bologna), All Frontiers(Gorizia), Area Sismica (Forlì), Cafè OTO (London), Quiet Cue (Berlin), O' and Standards (Milan), as well as New York's Transient Series, the Incubator Arts Project – Ontological Hysteric Theater, Zebulon, Silent Barn and Spectrum.
https://www.alessandranovaga.com/