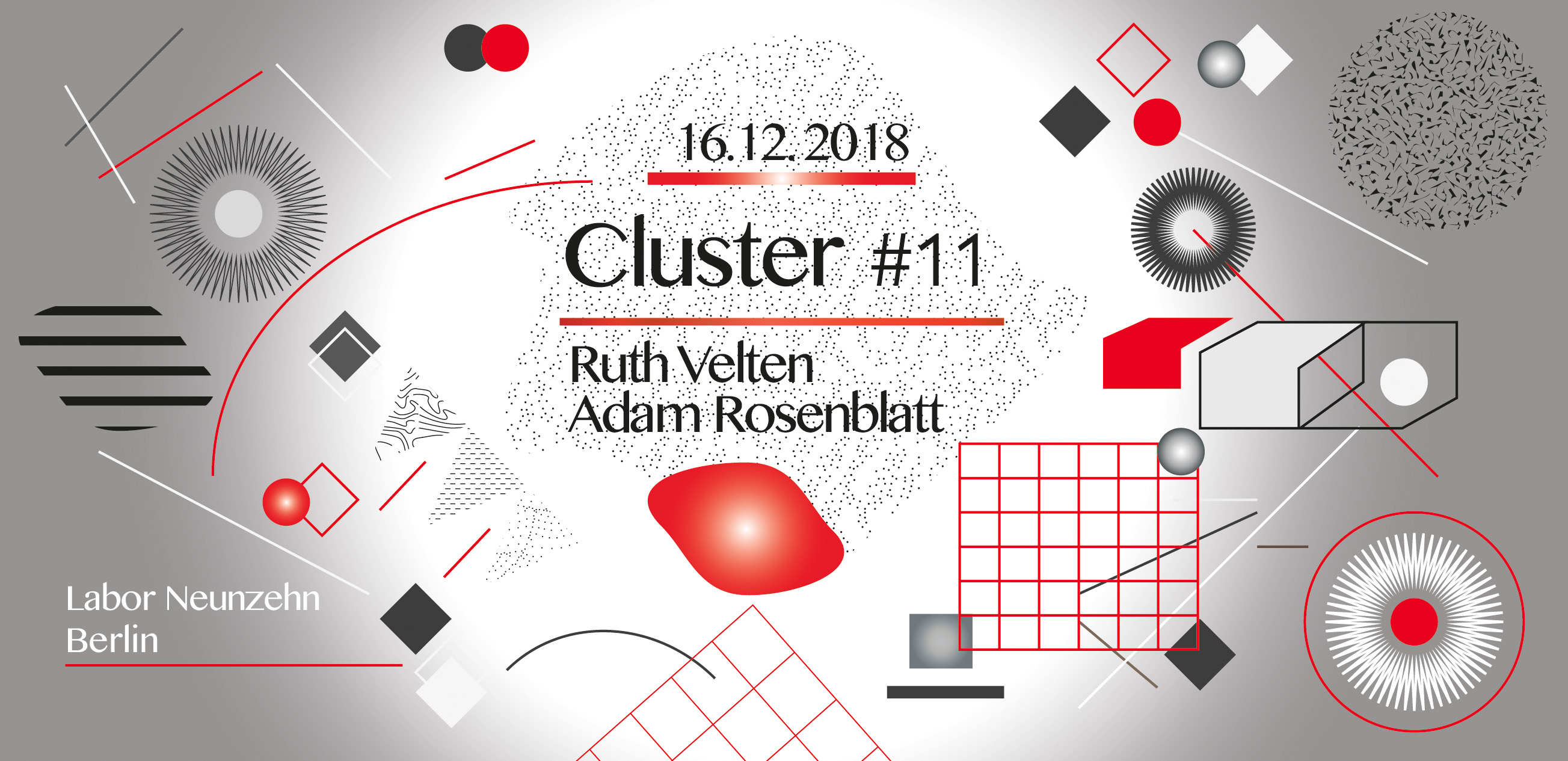 DATE: 16 December 2018 // DOORS: 17:30 // CONCERT: 18:00
CLUSTER #11
Labor Neunzehn is very pleased to announce the closing concert of the 2018 Cluster series, with an exploratory programme for saxophone, percussion, voice and electronics. An informal portrait of the form, through diverse musical categories and approaches to the structure in musical composition: from minimalism to sensor-based music, from the use of the cycle and the gesture to the investigation of the sounding qualities of the human body.
Concert programme:
Luciano Berio [1925-2003]
Sequenza VIIb (1969)
for Soprano Saxophone
Terry Riley [1935]
Dorian Reeds (1965)
for Saxophone and Delay
Fabien Lévy [1968]
L'air d'ailleurs – bicinium (1997)
for Saxophone and Tape
/
François Sarhan [1972]
Homework
Mark Applebaum [1967]
Aphasia  (2009)
for one vocalist or actor with tape
Alexander Schubert [1979]
Laplace Tiger  (2009)
for drum kit, arm-sensors, live-electronics and live-video
Performers:
Ruth Velten (saxophones, electronics)
Adam Rosenblatt (voice, percussion, sensors)
This concert is kindly supported by Dezentrale Kulturarbeit Berlin-Treptow.

FREE ENTRANCE but registration required
https://www.eventbrite.de/e/cluster-11-w-adam-rosenblatt-and-ruth-velten-tickets-53384851528
or email to info[at]laborneunzehn[dot]org
"Cluster" is a music series devoted to sound investigation with a particular focus on contemporary languages, new music and extended techniques. "Cluster" supports the collaborative work and aims to offer an exchange platform for musicians, composers and electronic music performers in Berlin-Treptow.
////////////////////////////////////////////////////
MORE INFO:
www.laborneunzehn.org
https://vimeo.com/clusterseries
FB EVENT: www.facebook.com/events/2333042813687444
////////////////////////////////////////////////////
ABOUT THE ARTISTS
Ruth Velten
In her work and her choice of repertoire, Ruth Velten places special emphasis on original classical compositions as well as New Music for saxophone. The internationally acclaimed saxophonist is frequently praised in the press for her rich timbre and virtuoso playing.
She attracted attention as a first-prize winner at national and international competitions, including the German Music Competition, the International Music Competition for Contemporary Music in Kraków, Poland, the Classic Music Award Switzerland and the International Chamber Music Competition in Almere, the Netherlands. In addition, she won a scholarship from the International Ensemble Modern Academy in Frankfurt and Deutsche Stiftung Musikleben.
She regularly performs as a soloist as well as a chamber musician at renowned festivals, among them Warsaw Autumn, the World New Music Festival, the Ultraschall Festival Berlin, the Schleswig-Holstein Music Festival, Festspiele Mecklenburg-Vorpommern and Festival de México. She collaborates with various ensembles and orchestras, including Ensemble Modern, the Berlin Philharmonic, the Deutsche Oper Berlin and German Radio Philharmonic Saarbrücken Kaiserslautern, under leading conductors such as Péter Eötvös, Sakari Oramo, Ingo Metzmacher, Markus Stenz and John Storgårds.
To encourage new works for saxophone, she works closely with composers. Since 2013 she has been the director of the IM FOKUS concert series for New Music in Berlin, in which she undertakes New Music productions of her own.
Ruth Velten is a founding member of Ensemble LUX:NM. Her discography includes recordings on the GENUIN classics label. Many of her performances have been broadcast on German stations BR, HR, SWR, Deutschlandfunk, NDR, WDR and rbb.
Adam Rosenblatt
Baltimore-based percussionist and performer Adam Rosenblatt has a penchant for finding interesting and uncommon ways to present and perform contemporary music. He has a keen interest for growing an interdisciplinary performance practice, believing that a mix of media and art forms can speak more directly and powerfully to our current context.
Adam frequently performed with Brussels-based Ictus Ensemble from 2012 to 2017. He is a founding member of percussion trio QuaQuaQua and mixed ensemble Something Out There, both of which focus on the ambiguous space between musical and theatrical performance. Adam has recently performed in such varied venues as The Onassis Cultural Centre in Athens, Greece; Berghain in Berlin with experimental electronic duo Matmos; The Banff Centre for the Arts as part of the Concerts in the 21st Century residency; and the Palais des Beaux-Arts in Brussels, Belgium.
Highlights of Adam's 18-19 season include a new production of Michael Gordon's Timber with original reactive lighting elements; performances with NakedEye Ensemble, and at WNYC's variety show 44 Charlton; and a season-long collaboration on a new production with Maschinenhaus Essen, ensemble Something Out There, and composer François Sarhan.
Adam is currently an artist in residence at The Creative Alliance in Baltimore.
THE CO-CURATOR GUEST ENSEMBLE
Passepartout Duo
Ever since they began collaborating in 2015, the musicians of Passepartout Duo have sought to revitalize the forms and practice of contemporary music through immersive events, compelling music videos, and interdisciplinary projects that emphasize blurring cultural and aesthetic borders.Striving to be catalysts for the global mobility of art and artists, Nicoletta Favari (piano) & Christopher Salvito (percussion) have taken the works of emerging and established composers all over the world. They complement the existing and commissioned repertoire with their own original compositions often taking inspiration from their travels. Creating compelling films that document their interpretations and compositions, they seek to showcase contemporary classical music in accessible formats through online videos.While they are proudly self-sufficient in their management, recording, filming, and touring activities, the duo is also always eager to create collaborations across disciplines.Their enthusiastic globetrotting has been made possible with the support of countless artist residencies that have provided them access to platforms in rural and urban locations around the world. The Duo has also presented their work at a variety of music festivals including the Huddersfield Contemporary Music Festival (UK), the Havana Contemporary Music Festival (CU), the Norfolk Chamber Music Festival (US), the Dark Music Days Festival (IS), and the Summartónar Festival (FO).