DATE: 21 Mai 2017 // DOORS: 17:30 // CONCERT: 18:00
CLUSTER #4
Labor Neunzehn is pleased to present the project TUBASS featuring Yuri Shimaoka (dance), Adam Goodwin (double bass) and Jack Adler-McKean (tuba) performing works by Scott Rubin, Asia Ahmetjanova and Hans-Joachim Hespos, with scenographic direction by Jahman Davine.
FREE ENTRANCE but registration required
https://www.eventbrite.de/e/cluster-4-registration-34153270351 or email to cluster[at]laborneunzehn.org
//////////////////////////////////////////////////

PROGRAM NOTE:
Three artistic creations are combined into one performance exploring contemporary methods of creative interaction. ironic erratic erotic is a performance-experiment in cross-modal transcription and improvisation by Scott Rubin. Pre-recorded and pre-improvised material is re-exchanged on stage with live instruments amplifying and subverting choreographed movement, whilst motion sensors allow the dancer to manipulate acoustic sound into live electronics, creating digital and analogue relationships between the dancer, the musicians, and the sound. Protection is a micro-opera by Asia Ahmetjanova observing the choices that have to be made in order to integrate within modern society: the combination of the emotional, the spiritual and the political, the questioning of our own existence and our human responsibilities as interactive players on the world stage. Hans-Joachim Hespos's poorgi-blues acts as a prelude to these two brand new works, a piece first heard a third of a century ago but probably not again since, an exercise in juxtaposition with still today pushes both instrumentalists close to their performative limits.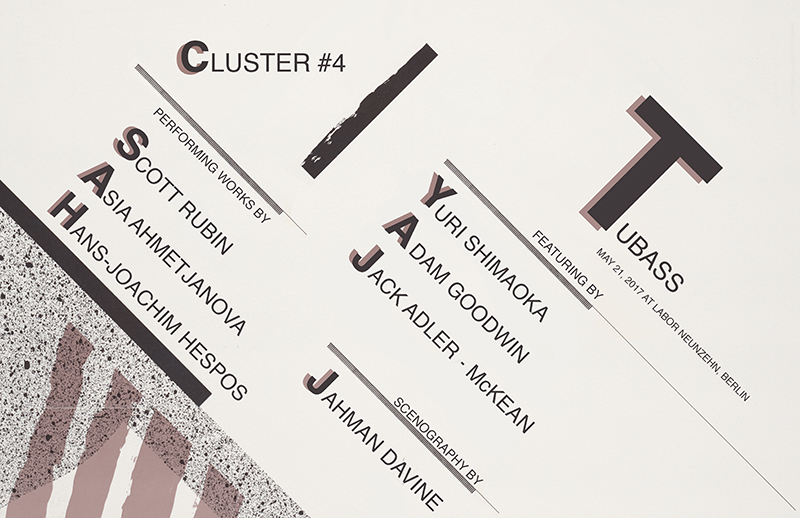 "Cluster" is a music series devoted to sound investigation with a particular focus on contemporary languages, new music and extended techniques. "Cluster" supports the collaborative work and aims to offer an exchange platform for musicians, composers and electronic music performers in Berlin-Treptow.
FREE ENTRANCE but registration required
https://www.eventbrite.de/e/cluster-4-registration-34153270351 or email to cluster[at]laborneunzehn.org
////////////////////////////////////////////////////
MORE INFO:
www.laborneunzehn.org
https://vimeo.com/clusterseries
FB EVENT: www.facebook.com/events/101115670454157/
/////////////////////////
ABOUT THE ARTISTS
ADAM GOODWIN
Adam Goodwin is a Texan contrabassist, composer, and visual artist. He engages in a wide spectrum of artistic activity that involves frequent collaboration with performers, composers, sound artists, choreographers, dancers and visual artists. Goodwin's musical approach places a heavy emphasis on physical gesture and spontaneity, along with a conscious consideration of the particular space and context in which the music is taking place. As composer and interpreter, he strives to obliterate the false pretenses that tend to surround contemporary art world, and return to a primordial mode of expression which places the highest priority on the individuality of the performer and the spontaneity of each unique moment. He has performed extensively throughout Europe, North America, and Asia, presenting contemporary chamber music and symphonic works as well as free improvisation, original compositions and a vast range of pieces written for solo contrabass.
adamgoodwin.jimdo.com
JACK ADLER-MCKEAN
Jack works primarily as a tuba player, promoting his instrument to ensembles, composers and educational establishments worldwide. Recent activity includes invitations to work with Klangforum Wien, Ensemble Musikfabrik and Kammerensemble Neue Musik Berlin, collaborations on new works with Georges Aperghis, Michael Finnissy and Evan Johnson, giving seminars at the Royal College of Music, Columbia University and Hochschule Luzern, and première performances at the Darmstädter Ferienkurse, Donaueschinger Musiktage and Intersonanzen Festival as well as solo concerts in London, New York and Berlin. He has also worked with orchestras across Europe under conductors including Sir Simon Rattle and David Robertson, with chamber orchestras including Kammerakademie Potsdam and Spira Mirabilis on serpent and ophicleide, and with dubstep bands on the sousaphone, whilst his own compositions and arrangements are currently published by Potenza Music.
www.jackadlermckean.eu
YURI SHIMAOKA
Yuri Shimaoka was born and trained classical ballet in her hometown Nagano, Japan. She studied Art History in Dokkyo University and trained dance in ABS Tokyo. During her studying she started to assist Yoko Ando for some projects (e.g.: DivisualPlays /Reactor for Awareness in Motion, at YCAM InterLab). Since the beginning of 2015 she is based in Berlin and working with choreographers, musicians and creative coders (Julia Maria Koch, Christine Bonansea, Tarren Johnson, Tomer Zirkilevich, Deutsche Oper Berlin, Tim Scanlan, Alice Phoebe Lou, Krisjanis Rijnieks and so on) in different places from theater to street.
www.yurishimaoka.com
JAHAMAN DAVINE
Jahman Davine is an Australian born theatre maker working between Melbourne, Australia and Berlin, Germany. Having graduated from the National Theatre Drama School, he has also studied the Anne Bogart and Tadashi Suzuki methods with Zen Zen Zo, Australia's leading physical theatre company. Davine's productions walk a formal tightrope between chaos and order, using philosophy and mythology to investigate themes of social ideology, fantasy and taboo. Davine endeavours to define a new form of performing arts, one which stands independently from other art forms to offer the unique possibility of an extraordinary group experience, influenced by the historic human necessity for tragic celebration, ritual, and cathartic connection.
jahmandavine.com
/////////////////////////////////////////////////
ABOUT THE COMPOSERS
ASIA AHMETJANOVA
Asia is a Latvian composer and pianist based in Paris, France and Lucerne, Switzerland. After initial studies at the Emils Darzins Music School, she completed degrees at the Estonian Academy of Music and Theater and the Hochschule Luzern, studying with, amongst others, Konstantin Lifschitz (piano) and Dieter Ammann (composition). She also worked in Lucerne with Bernhard Lang, Wolfgang Rihm and Enno Poppe, at Darmstadt International Summer Course with Raphaël Cendo, Fabien Lévy, Martin Schüttler and at the Tchaikovsky City Composers Academy with Oscar Bianchi, Carola Bauckholt, Fabien Lévy, Dmitry Kourliandski and Sergej Newski, as well as electronic music with Dimitris Maronidis and Junghae Lee. She has collaborated in Europe and the USA from Ensemble Schallfeld, Ensemble Sargo, Quartett Quadra, Ensemble Nomads, "Jaunie Latvijas Kamermūziķi'', Compagnie la Tempête and soloists from all over the world. Depth, inner movement, dialogue and performance have become the concentration points in her work.
www.ahmetjanova.com
SCOTT RUBIN
Scott Rubin is a composer and improvising violist whose work interrogates relationships between sound and movement through analog and digital means. His recent projects have involved collaborations with musicians and dancers, often making use of interactive acoustic/electronic improvisation and motion-sensitive live electronics. In these projects, he explores guided improvisation, peculiarities of auditory cognition and perception, and the discourse found when traversing different modes of music listening. Currently, Scott is a PhD student at the University of California at Berkeley where he studies with Ken Ueno, Franck Bedrossian, Myra Melford, Edmund Campion, and Cindy Cox. He is an active researcher at the Center for New Music and Audio Technologies.
www.scottrubinmusic.com
HANS-JOACHIM HESPOS
Born in 1938 in Emden, Hans-Joachim Hespos works as freelance composer and self-publisher in Ganderkesee. Since 1967 he has been the recipient of numerous commissions, prizes and awards for composition, including the Stichting Gaudeamus Bilthoven, Fondation Royaumont Paris, Villa Massimo Rome. He has composed a huge number of works that are usually extreme even by the standards of the German New Music. Perhaps one of the most remarkable features of Hespos's music is that there would seem to have been no discernible process of development of technique or alteration in concerns during the last thirty years. Hespos writes as uncompromisingly today as he has always done and the unmediated forcefulness of his work remains almost without parallel even today. His scores, be they verbal, graphic, more conventionally notated or some combination thereof, always constitute incitements to action rather than instructions to be executed neutrally. Inspired by Adorno and Artaud, each composition forms itself unfettered during the act of composition. Thus each work of any length would hardly be analysable as an artistic object. In Hespos' own words, he composes without knowing "whither it goes in the next moment, where it ends".
www.hespos.info