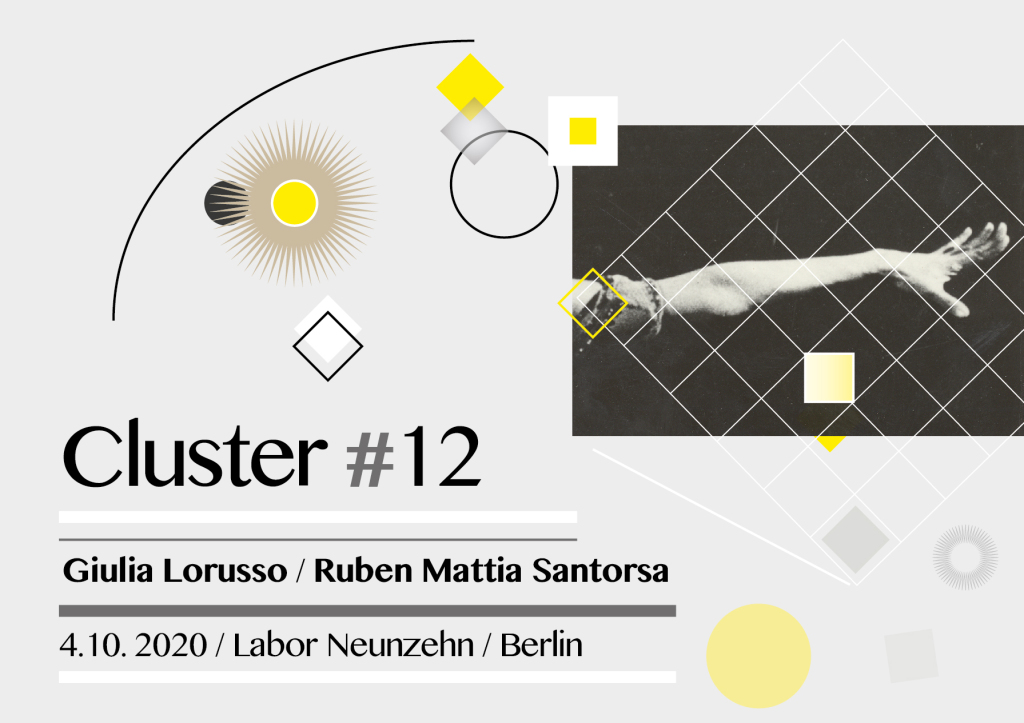 DATE: 4 October 2020 // DOORS: 17:30 // CONCERT: 18:00
CLUSTER #12
Despite the difficulties associated with this period of uncertainty due to the COVID-19 emergency, Labor Neunzehn is happy to invite you to reopen our "Cluster" Series for the year 2020. The first date will be Sunday October 4 2020 and will see the presence of the Italian guitarist Ruben Mattia Santorsa, who will perform a programme for classical and electric guitar. To accompany him, we will have the pleasure of hosting the Italian composer Giulia Lorusso with a work that draws inspiration from the fragile coexistence and interaction of human and artificial, as well as the contraposition of natural and industrial.
Concert programme:
Ruben Mattia Santorsa
György Kurtag
Six short pieces – classical guitar
Maurizio Pisati
Studi n,1,2,3,5 – classical guitar
Ida Lunden
dadodado – classical guitar
Rosalba Quindici
Preludio – classical guitar with bow
Lorenzo Troiani
Cratere – electric guitar
Rebecca Saunders
Study For Metal Bottle Necks – electric guitar
Giulia Lorusso
À fleur de peau – electric guitar
/
Giulia Lorusso 
Live-Electronics
/
Performers:
Ruben Mattia Santorsa
Giulia Lorusso
The project CLUSTER is generously supported by Initiative Neue Musik Berlin / field notes and Dezentrale Kulturarbeit Berlin-Treptow.

FREE ADMISSION – registration required. Visitor capacity is limited. The usual COVID-19 protective measures apply.
EVENTBRITE: https://www.eventbrite.de/e/cluster-12-giulia-lorusso-ruben-mattia-santorsa-tickets-121545412601
"Cluster" is a music series devoted to sound investigation with a particular focus on contemporary languages, new music and extended techniques. "Cluster" supports the collaborative work and aims to offer an exchange platform for musicians, composers and electronic music performers in Berlin-Treptow.
////////////////////////////////////////////////////
MORE INFO:
www.laborneunzehn.org
https://vimeo.com/clusterseries
FB EVENT: https://www.facebook.com/events/1031694707279478/
////////////////////////////////////////////////////
ABOUT THE ARTISTS

Ruben Mattia Santorsa (*1992) is an Italian classical and electric guitarist.

Contemporary music is currently at the heart of his work and his artistic manifesto. He firmly believes that through it we can convey a message of openness, acceptance and social, political and cultural renewal, much needed in today's society.
He premiered pieces by composers such as Chaya Czernowin, Rebecca Saunders, Helmut Oehring and Peter Eötvös.
His musical guides were Yaron Deutsch, Walter Zanetti and Elena Càsoli. Crucial for his musical growth was meeting and working with composers like Helmut Lachenmann, Rebecca Saunders and Luca Francesconi. In addition to his career as a soloist, he is also continuing his research on contemporary music in chamber music, performing regularly with ensembles and orchestras such as Radio-Symphonieorchester Wien, Lucerne Festival Academy Orchestra, Mosaik Ensemble, Ensemble Contrechamps, MDI Ensemble, NEC Ensemble and Sonemus Ensemble, with conductors such as Sir Simon Rattle, Enno Poppe, Marina Alsop, Matthias Pintscher and Peter Eötvös in the KKL Lucerne and in the Elbphilharmonie of Hamburg.
He gave a lecture about the Contemporary guitar in Paris (Conservatoire Superieur de musique et danse), Boston (New England Conservatory), Chicago (Northwestern University), Lisbon (Escola Superior de Música) and Sevilla (Conservatorio Superior de Música Manuel Castillo). He graduated the Master Specialized in Soloist (Solistendiplom) with a specialization in contemporary music and the Master of Performance at the Hochschule of Bern with the teacher Elena Càsoli. He graduated at the conservatory of Bologna with Walter Zanetti at the conservatory of Bologna. and he studied composition with Paolo Aralla. He won the scholarship Swiss Government Excellence for the years 2013-2015, which was conferred to the best students who have been admitted to a Swiss university.
link: https://www.rubenmattiasantorsa.com/
Giulia Lorusso
Born in Rome in 1990, Giulia Lorusso studied piano and composition at the Conservatory "Giuseppe Verdi" in Milan and in Paris where she attended the Cursus IRCAM and completed a Master's degree at the Conservatoire de Paris (CNSMDP). Lorusso received commissions by The Fondazione Spinola Banna per l'Arte (Turin, Italy) in co-production with IRCAM-Centre Pompidou, Bludenzer Tage zeitgemäßer Musik (Bludenz, Austria), Radio France and ProQuartet. Her music has been performed in Italy and abroad, such as at the Festival Milano Musica, Festival Manifeste-IRCAM, Tzlil Meudcan Festival (Tel Aviv), Bludenzer Tage zeitgemäßer Musik, Tactus Young Composers' Forum (Bruxelles) by ensembles such as KNM, Distractfold Ensemble, Quartetto Prometeo, Divertimento Ensemble, Ensemble Nikel, Brussels Philharmonic Orchestra and Ensemble Intercontemporain. 
link: https://soundcloud.com/giulia-lorusso
///////////////////////////////////
Curated by Labor Neunzehn
Poster designed by Valentina Besegher