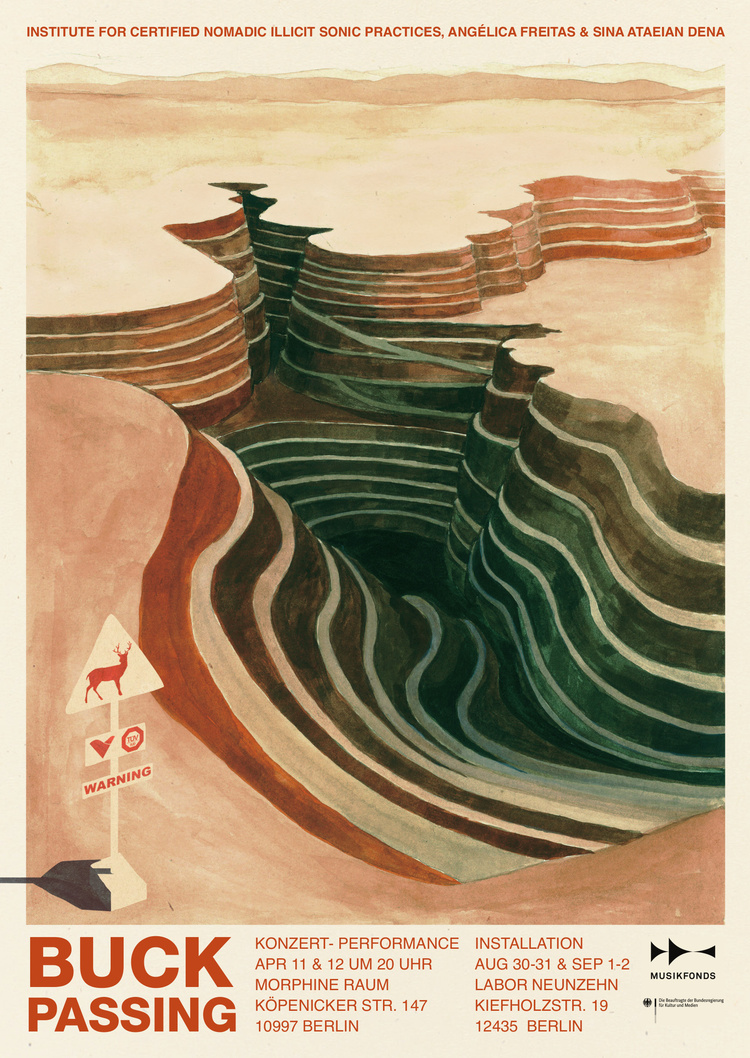 Institute for Certified Nomadic Illicit Sonic Practices (Matthias Koole & Marina Cyrino) together with the poet/performer Angélica Freitas and the film director/video artist Sina Ataeian Dena present the installation version of their new interdisciplinary collective creation.
The project »Buck-Passing« is both a sound-theatre performance and a multimedia installation. The artists combine instrumental techniques, refined satire and critical use of chroma keying to address the intertwining of global north and south in producing criminal environmental disasters. They are interested in performing – and intervening in patterns of attribution of blame, also known in English as »buck-passing«. These are strategies to postpone responsibilities, which aim to make the crimes fall into oblivion, hinder investigations, and deviate from the essential: the care and protection of human and other-than-human life.
The sound theatre performance was recorded in April at Morphine Raum and is the basis for the installation they present at Labor Neunzehn.
The installation goes from 30.08-02.09 from 2 pm -6 pm.
The artists will do a talk during the finissage on September 02 at 8 pm.
more info:
https://icnisp.org/buckpassing
https://www.field-notes.berlin/en/node/9474
when:
Wed, 30.08.2023, 15:00 – 17:00
Tickets: Free entrance
img © Luisa Dória