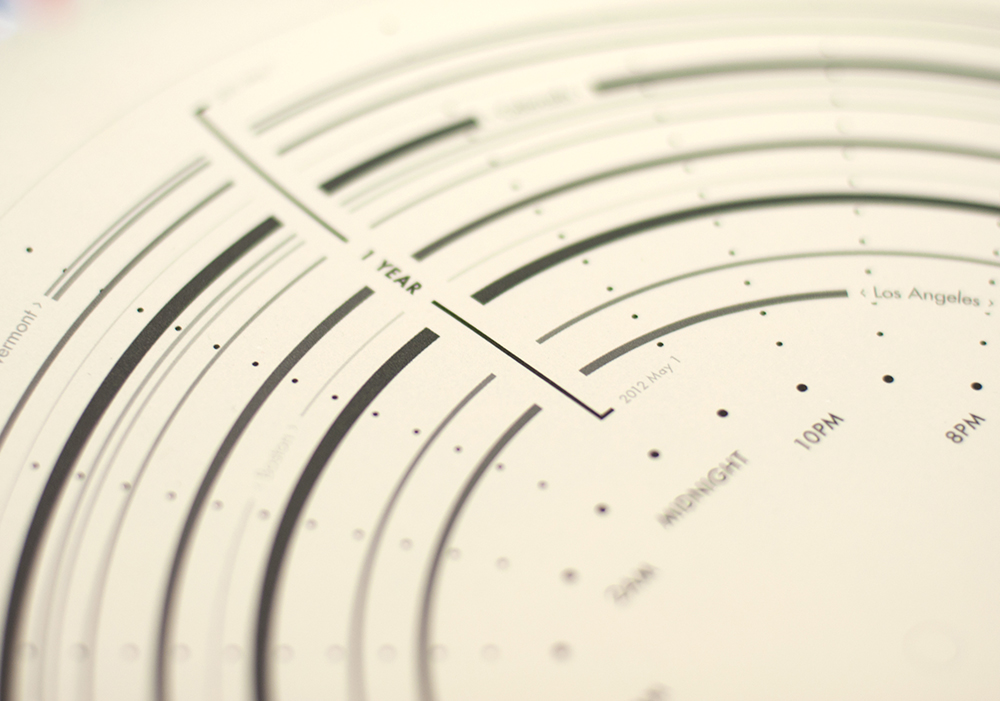 Brian House – Quotidian Record
WORK
Quotidian Record is a limited edition vinyl recording that features a continuous year of my location-tracking data. Each place I visited, from home to work, from a friend's apartment to a foreign city, is mapped to a harmonic relationship. 1 day is 1 rotation … 365 days is ~11 minutes.
As the record turns, the markings on the platter indicate both the time as it rotates through every 24 hours and the names of the cities to which I travel. The sound suggests that our habitual patterns have inherent musical qualities, and that daily rhythms might form an emergent portrait of an individual.
As physical vinyl, Quotidian Record may be collected and fetishized, connecting the value of data today with the history of popular music culture. It provides an expressive, embodied, and even nostalgic alternative to the narratives of classification and control typical of state and corporate data infrastructure.
BIO
Brian House is a media artist whose work traverses alternative geographies, experimental music, and a critical data practice. He is interested in the contingent qualities of information and how we experience time in network culture. By constructing embodied, participatory systems, he seeks to negotiate between algorithms and the rhythms of everyday life.
Currently, Brian teaches in the Digital + Media program at the Rhode Island School of Design (RISD). Previously, he was a member of the New York Times Research and Development Lab, where his work was recognized by TIME in their "50 Best Inventions of 2011″ issue. Brian has also led technology at the award-winning design studio Local Projects, developed courses at Parsons Design & Technology program and Columbia's Graduate School of Architecture, and was an artist-in-residence at Eyebeam Art & Technology Center.